I went to Ipoh yesterday to see the latest update on my Bee. When I arrived at the toll exit, Im808 guide me to the Underground Garage. Arrived, my first impression was,
"Walao
, very underground
lah
this place." I thought the place was a shop lot. LOL.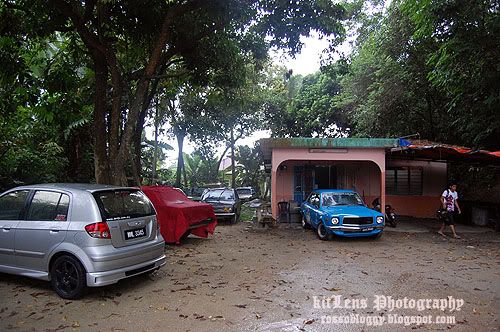 Anyway, even though the place looks creepy and weird, my main reason of sending my car here is because they had been working on Mazda 808 quite some time which mean they have more experience on this particular species. This is 808 heaven. You can find most of 808 parts you want here coz they had been scrapping more than 10 units of 808.
This is Im808's ride. With 1.6l engine inside, there's no way he's driving it slow. I always get left behind when following him. Oh, where's my Bee? Im808 keep it at his college. According to him, it is much safer to keep my car there rather than keeping it here. Plus, the body shop is near the college, so that's another reason.
Here's Bee's engine block looks like. The crank pulley nut is stucked by the way, so cant remove it yet. The oversize pistons had been ordered, and the block will be send to the foundry once the ordered pistons arrived. The block will be painted too. Im thinking of making a Lego color scheme by the way.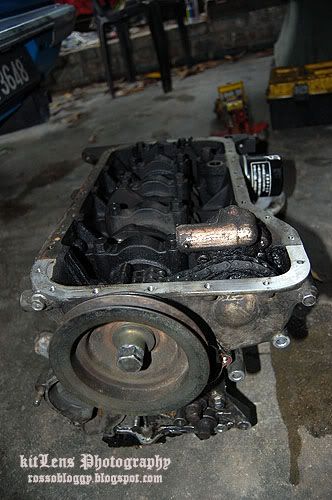 And this is the engine's head. Quite dirty eh?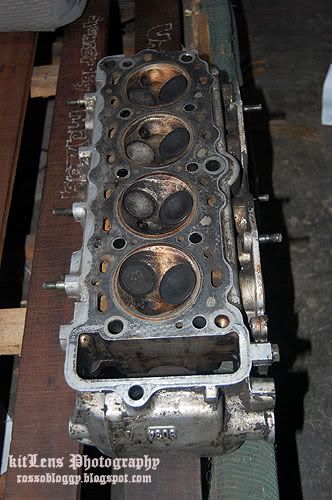 And after some grinding process, here's how the head looks.
And let the porting and polishing process began. This is my first ever experince on porting and polishing process, even looking also first time. So, I was kinda
jakun
back there and ask so many question to Im808. Lol.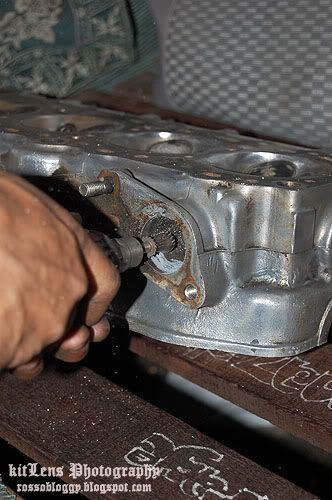 Even the exhaust outlet also had been ported.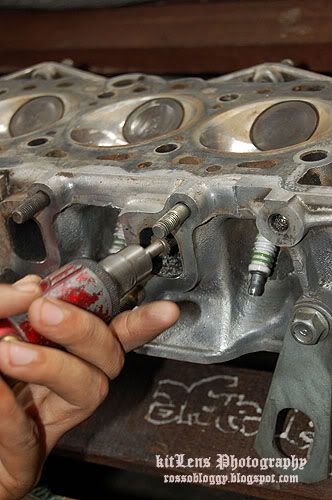 Did you spot any difference now?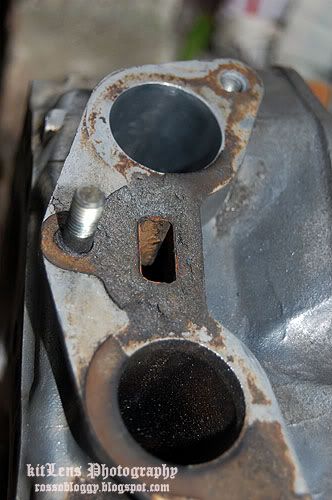 The dirt on the valve was super stubborn. It tooks quite an effort for Im808 to grind it.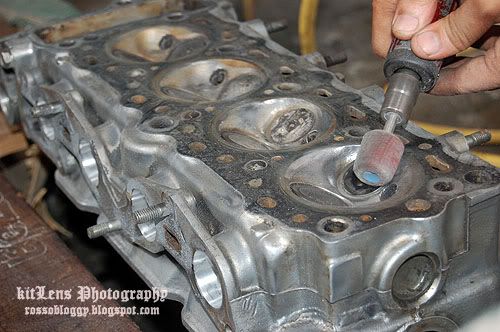 The almost finish product. I am proud of myself coz Im808 let me grind the outer part of the head till it shine. I love detailing job anyway. Shiny eh?

Square tail lamp of Im808 just like mine. I was drooling all over it coz this is the most 'original' set I had ever seen. Almost looks like NOS. And sadly, not for sale. Big thanks to Im808 for collecting a lot of 808 relics. There's a room in the house that is full of 808 stuffs. How to imagine
eh
? It's like when you assemble everything back into the chassis, you will get a few unit of Mazda 808 back.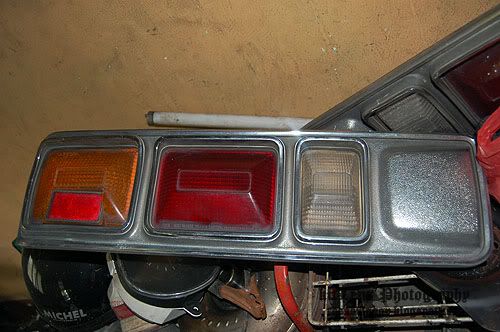 Bee's flywheel that will be skimmed so that it will be lightened too.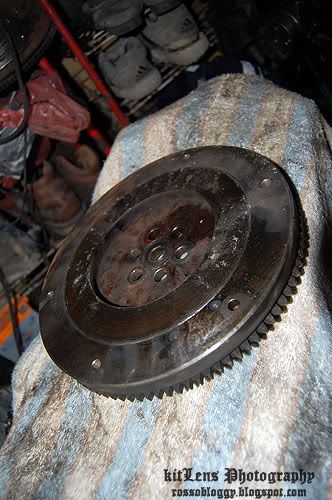 I was thinking why the hell this rotten 808 was there. Until Im808 asked me to pop up the hood..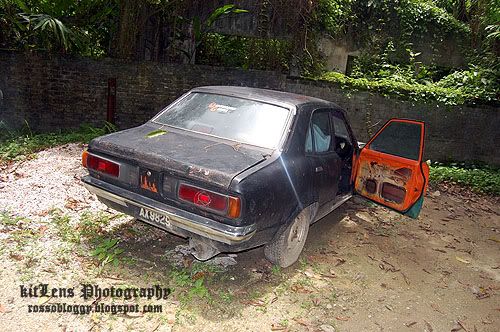 What the
fook
!? 13B engine with IDA Weber yo! Damn, this car is super sleeper and 100x more cooler than mine once the car is done. Owner is still looking for a new chassis. Drool time again.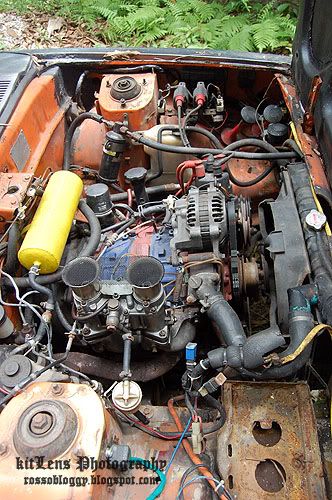 RX2 lil brother that is for sale. Someone please save the car. This old rare metal deserve an attention.

Wan Dreamers Vault of Retro Syndicate and Han was checking out a DGAV Weber.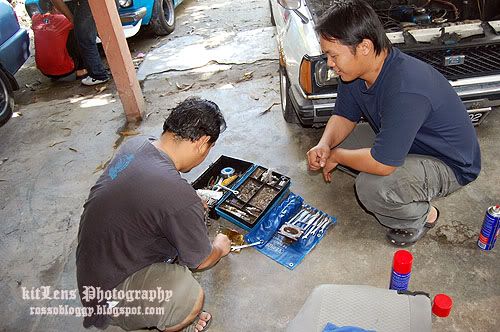 Anyway, some changes in plan for Bee is, she's getting a new set of side mirror that will be much better looking, a hood scoop taken from Mira L5 to be fitted onto Bee's hood (Rotary wannabe yo!), and also this kind of lip called Go Fast from Jeya. This lip was meant to be for KE70, but Im808 wanna try to force fit it. If it is successfull, I'll be taking a unit too. Any comment guys?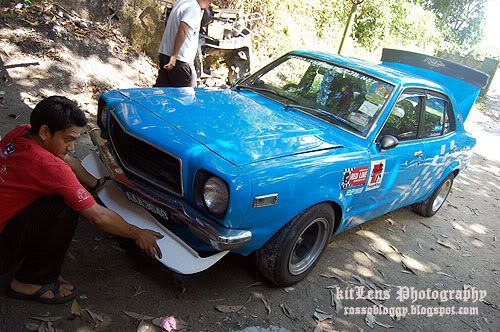 A lot of trimming work will be needed I think.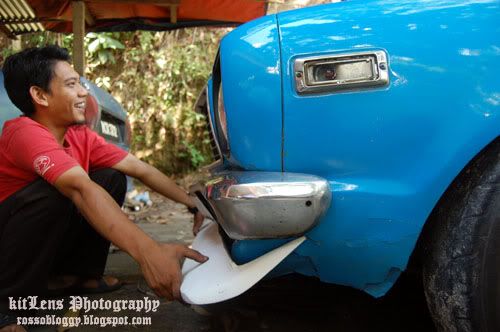 We are aiming for another three weeks for the car to be finished 100%. I want to run in the engine quickly before the Olskool Cup event that will be held at MIMC this 10th of October.