Actual item:



Copy from other site :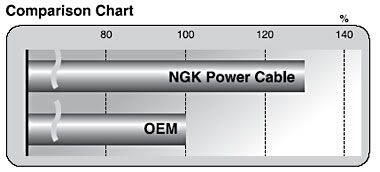 NGK's Power Cable is a performance spark plug cable designed with ultra-low resistance (0.9kW/m). The ultra-low resistance reduces spark energy loss, thereby improving acceleration, delivering smoother idling, and burning fuel cleaner. NGK's patented hyper silicon jacket minimizes voltage leakage, is resistant to heat and chemical corrosion, and it is reliable under extreme conditions. It's the hyper silicon jacket and the ultra-low resistance that allows NGK to maintain the factory diameter wires and provide the performance you crave!



4 pieces.
Good-used condition.
Some of the plastic cap clip are broken.
No crack or etc. Just dirty.
Sold as it is. No warranty whatsoever. What you see is what you get.
Brand new will cost you around RM400-450, so I am letting go at RM160.
COD in Cheras only. Post also can as long as buyer pay for it.
Contact me at 012 72 3345 4, Amar.

Thanks!